Year-Round Staff
Meet PRBC's year-round staff!
Adam Joraskie
Program Director
Adam comes from Mt. Carmel, Pennsylvania where he grew up with his mother, Nancy, his father, Bill, and his three brothers, Billy, Eric, and Austin. He holds a bachelor's degree in Religion from Bucknell University and a master's degree in Theological Studies from the Lutheran School of Theology at Chicago. Adam grew up in the ELCA Lutheran church-attending Grace Lutheran in Shamokin, Pennsylvania. Adam spent nine summers as a camper in Pennsylvania at Camp Mount Luther, before spending six summers as a staff member. He then spent one summer as a staff member at Camp Henry, a Presbyterian camp in Newaygo, Michigan, before eventually accepting the Program Director position here at Park River Lutheran Bible camp in January of 2017.
Jessica Hanson
Day Camp Director
Jessica is a Concordia graduate with her BA in Spanish and Studio Art. Growing up only 45 minutes away in Alvarado, MN, her walk with the Lord began as many do, going to church, Sunday school, VBS, and confirmation. Her journey with Park River Bible Camp and true understanding of God's love began in 2009 when she first attended as a camper. Since then she has served the camp for six summers beginning in 2013. In this time she has grown in her faith, found a heart for the Lord, and seeks to share God's love by showing it to all she encounters. Jessica is excited to continue her journey with Park River Bible Camp and hopes that every camper who experiences our ministry feels God's love through all camp has to offer.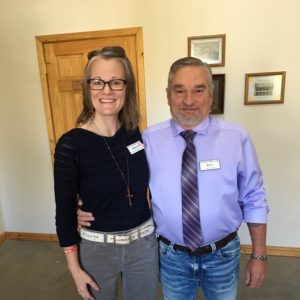 Jerry McIlwain
Site Director
Jerry grew up in Monroe, Louisiana. At the age of 22, he joined the army and moved to New York where he spent four years. After his time as Heavy Equipment Operator for the Army ended, he went into construction. He currently has 40+ years of construction experience. He also ran his own business in Washington where he focused on siding, windows, and roofing. In 2008, he settled down in North Dakota near one of his daughters and her family. In addition to being a wonderful grandfather to his 14 grandchildren (12 boys and 2 girls), he has also played many roles in the ministry of Park River Bible Camp. From cooking for retreats to assisting in fixing leaks, installing floors and general maintenance he has done a little bit of everything.  In 2017 he officially started as our On-Site Director.  
Nicolette Anderson
Office Manager
Nikki was born and raised Brainerd, Minnesota with her mother, Nancy, her father, Arthur, and her two sisters, Carrie Jo and Kristina. She graduated the University of Minnesota-Twin Cities where she was a Division I softball pitcher from 2012-2016 for the Golden Gophers. Ski-U-Mah! Nikki grew up learning about the Lord at Salem Lutheran Church in Deerwood, Minnesota. She attended Sunday school, VBS and confirmation there. Growing up Nikki attended Camp Hiawatha and Camp Vermillion for several summers which are where she fell in love with all things that camp had to offer. From the fall of 2016 until the summer 2018 Nikki was a Special Education teacher for Brainerd High School. In the fall of 2018, Nikki moved to Cavalier, ND to be closer with her significant other. Nikki is very excited to join Park River Bible Camp with the hopes that every camper is able to experience all the wonderful things that God and PRBC have to offer.